---
This season saw three leagues all with excellent players
and was divided over four match days.
As usual were at the Wildcats stadium in Wakefield.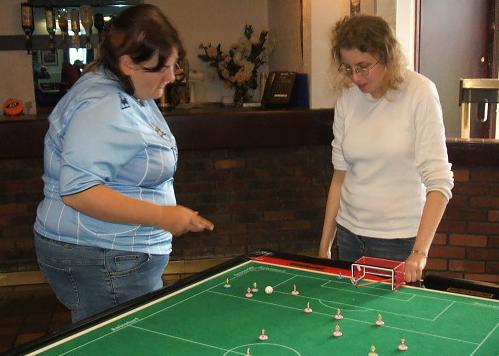 Louise and charlotte.
---
Day 1 - Sept 22nd 2007

Neil Munns 2-0 Eddie Betteridge
Neil Munns 1-2 Malc Dickson
Neil Munns 0-0 Kevin Adderley

Well, a pretty average start for yours truly.
I also played a cup match inbetween.

Neil Munns 0-3 Kenny Beggs
---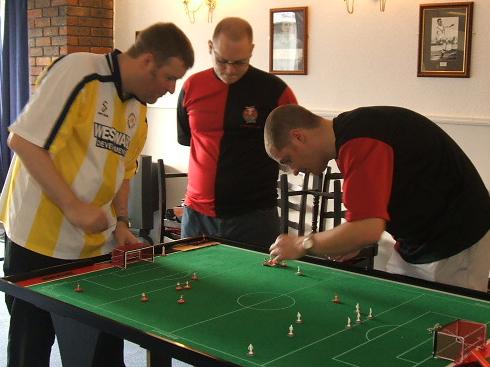 Martin Hodds and Paul Lawrenson
---
Day 2 - November 17th 2007

Neil Munns 4-1 Eddie Betteridge
Neil Munns 0-2 Paul Lloyd
---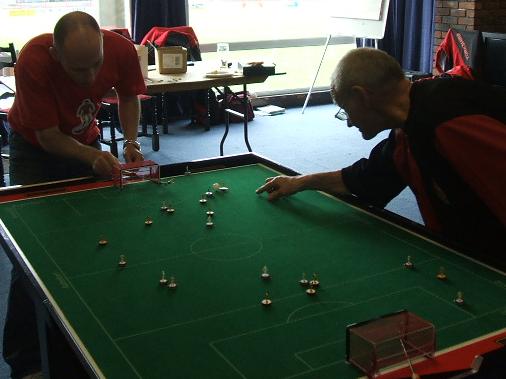 Reg Pearce on the attack.
---
Day 3 - March 1st 2008

Neil Munns 1-1 Tony McCann
Neil Munns 0-3 Paul Lloyd
Neil Munns 2-0 Tony McCann (again)

I'm not exactly romping away with it !!!
---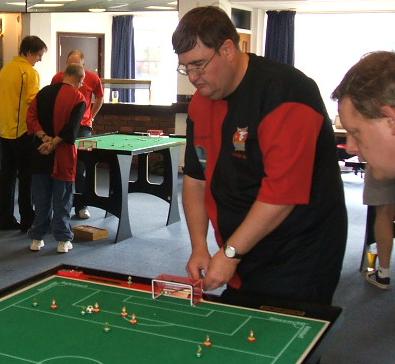 My turn to ref !
---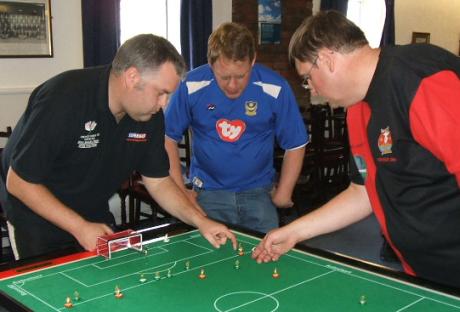 Stuart Mcilroy and Richard Pepper
again with me trying to officiate.
---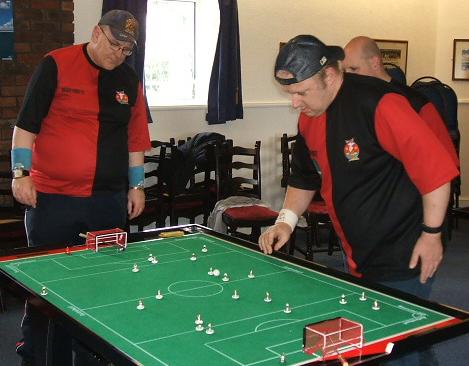 Steve Worthington and Terry Hitch, with Eddie Betteridge as ref.
---
I also played in some cup matches - April 12th 2008

Phoenix Challenge Cup 2007/8

Neil Munns 0-1 Paul Lloyd
---
Phoenix Division One Cup 2007/8Neil Munns 2-2 Kevin Adderley
Neil Munns 1-1 Paul Lloyd

Unfortunately that wasn't enough to go through either.
---
And now to the finale

Last league day (4) - April 12th 2008

I was mid table. Could I go for promotion ??Neil Munns 4-1 Kevin Adderley
This put me 3rd place - I'm in the playoffs !!!

Neil Munns 0-0 (0-1 ET) Tony McCann
Damm and blast it !!!!!!!!!!!!
---

Yorkshire Phoenix Super League 2007/8
| | | | | | | | | |
| --- | --- | --- | --- | --- | --- | --- | --- | --- |
| | Name | Pl | W | D | L | F | A | Pts |
| 1 | Craig Heward | 12 | 9 | 3 | 0 | 25 | 8 | 21 |
| 2 | Kenny Beggs | 12 | 5 | 4 | 3 | 24 | 15 | 14 |
| 3 | Martin Hodds | 12 | 4 | 5 | 3 | 16 | 12 | 13 |
| 4 | Stuart McIlroy | 12 | 5 | 3 | 4 | 13 | 12 | 13 |
| 5 | Richard Pepper | 12 | 3 | 5 | 4 | 14 | 13 | 11 |
| 6 | Paul Lawrenson | 12 | 3 | 4 | 5 | 13 | 19 | 10 |
| 7 | Eoin Adams | 12 | 1 | 0 | 11 | 8 | 33 | 2 |
| 8 | Trevor Cummings | 0 | 0 | 0 | 0 | 0 | 0 | 0 |

Yorkshire Phoenix First Division 2007/8
| | | | | | | | | |
| --- | --- | --- | --- | --- | --- | --- | --- | --- |
| | Name | Pl | W | D | L | F | A | Pts |
| 1 | Paul Lloyd | 10 | 8 | 2 | 0 | 20 | 2 | 18 |
| 2 | Tony McCann | 10 | 5 | 2 | 3 | 20 | 9 | 12 |
| 3 | Neil Munns | 10 | 5 | 2 | 3 | 16 | 10 | 12 |
| 4 | Malc Dickinson | 10 | 5 | 1 | 4 | 15 | 14 | 9 |
| 6 | Kevin Adderley | 10 | 0 | 5 | 5 | 7 | 15 | 5 |
| 7 | Eddie Betteridge | 10 | 0 | 2 | 8 | 5 | 33 | 2 |

Yorkshire Phoenix Conference Division 2007/8
| | | | | | | | | |
| --- | --- | --- | --- | --- | --- | --- | --- | --- |
| | Name | Pl | W | D | L | F | A | Pts |
| 1 | Steve Worthington | 10 | 9 | 0 | 1 | 24 | 5 | 18 |
| 2 | Terry Hitch | 10 | 5 | 4 | 1 | 22 | 6 | 14 |
| 3 | Kcarrie Valentine | 10 | 4 | 4 | 2 | 11 | 5 | 12 |
| 4 | Reg Pearce | 10 | 3 | 3 | 4 | 14 | 8 | 9 |
| 5 | Loiuse Lawrenson | 10 | 2 | 3 | 5 | 5 | 8 | 7 |
| 6 | Charlotte Smart | 10 | 0 | 0 | 10 | 1 | 45 | 0 |
---
© Neil Munns 2001