---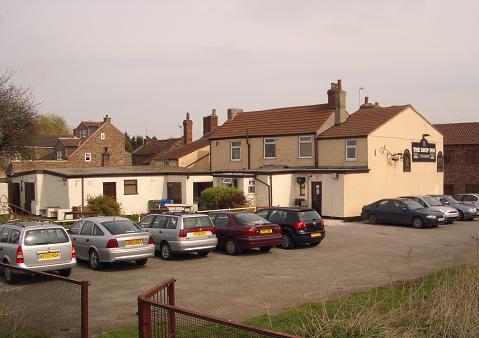 The Ship, Swinefleet.
A regular venue now for all subbuteo folk.
---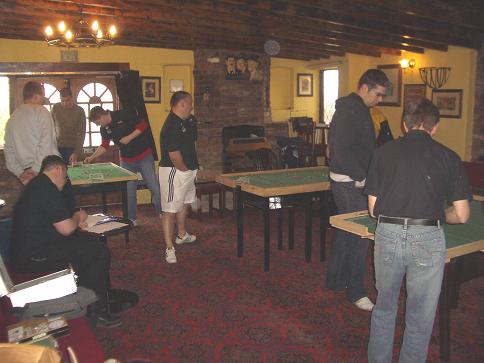 Once again the preparations are underway,
would anyone manage to beat Trevor Cummings this time ?
---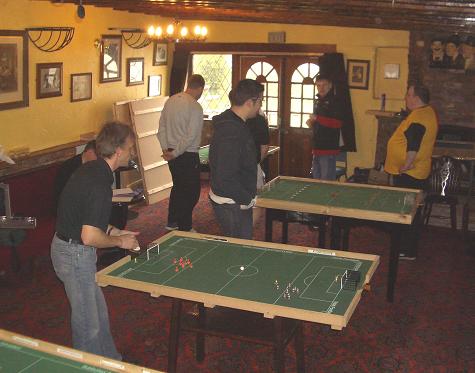 Also - could I manage a leap of faith and make the premier league ?!?
In my dreams.
I'll be lucky to hang on to the 3rd place I've got now.
---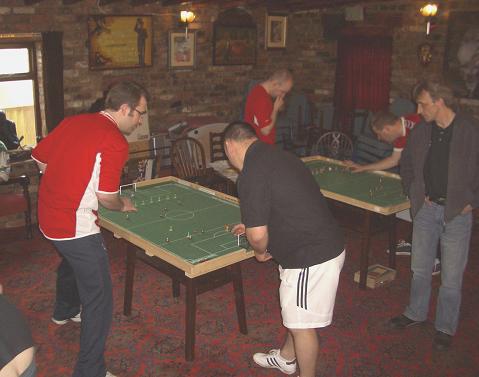 Off we go - Tippy and Ben here.
Trevor and Martin in the background
My first game wasn't too great,
Neil Munns 0-6 Neil Lishman
---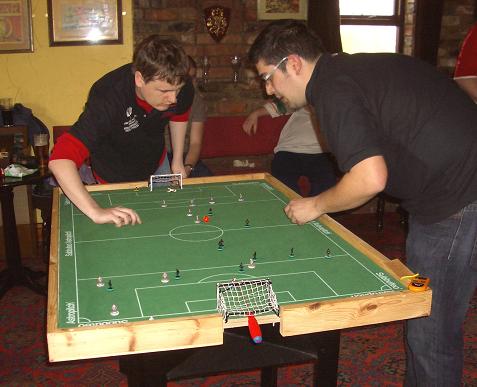 Kevin Adderley and Rob O'hare.
This game could affect my 3rd position,
Kev was in 4th and Rob was in 2nd
I too played Rob and Kev
Neil Munns 1-3 Rob O'Hare
Neil Munns 0-0 Kevin Adderley
---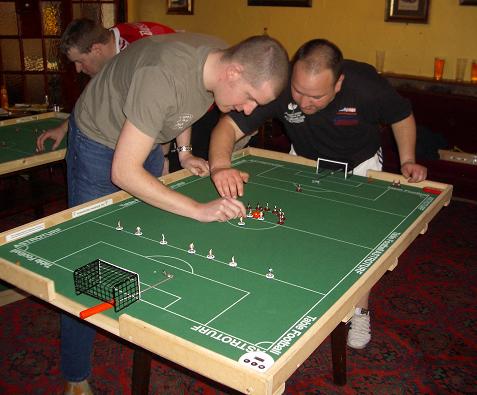 Interesting tactics from Tippy !
Centre circle siege or what ?
---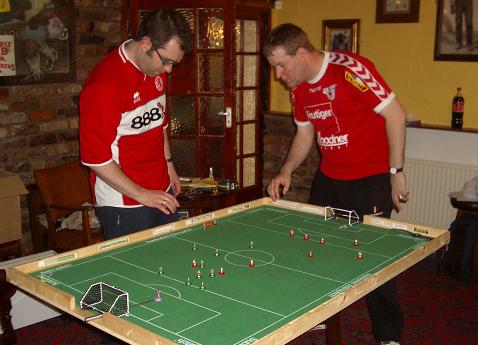 Ben and Martin.
Martin has crept-up recently to give everyone a right good kicking.
---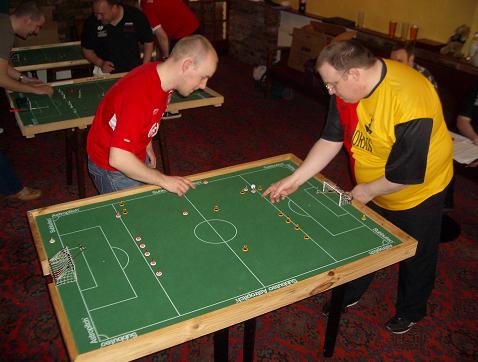 This is the crunch match !
Trevor cummings against Mike Parnaby.
Mike was 2nd in the premier league
and hoping take Trevors' title away.
What about my last few games - did I make it?
Neil Munns 2-0 Eddie Betteridge
Neil Munns 0-3 Neil Lishman (again)
Nope.I did get one win against Eddie though, sorry mate.
But, overall it wasn't exactly the plan I had.
---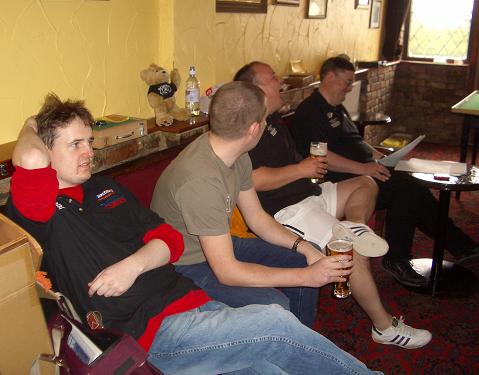 Some ale always helps proceedings !
---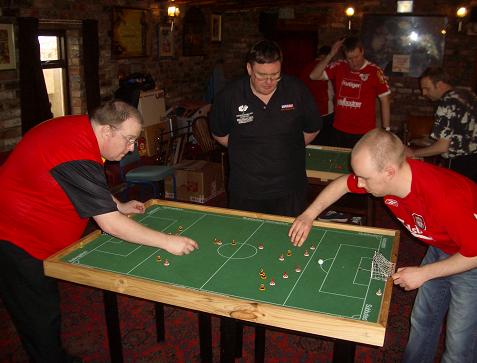 Not content with beating Mike in the league
Trevor then faced Mike for the Final of the cup.
---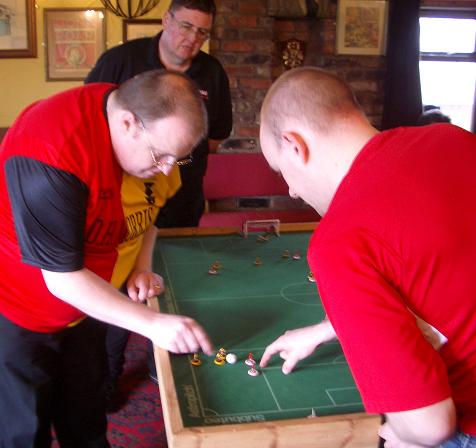 This time Mike hung on but just lost out to a last minute winner
losing 2-1 to Trev.Bloody close game !
---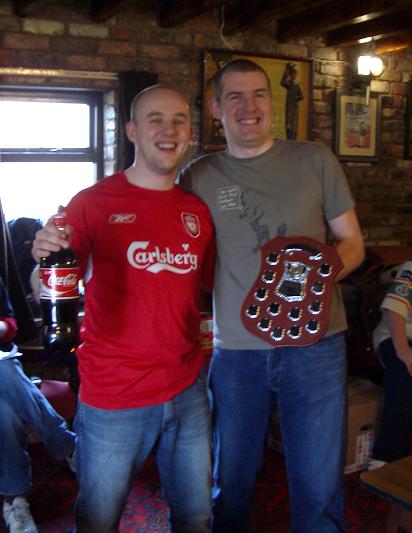 Top of the pile.
Trev took both league and cup trophies.
Well done mate.
---
So, that's the end of the 2005-06 season.
What was my final position in the 1st division going to be ?
Did I make promotion to the Premiership !
Not a chance mateys.I dropped to 4th in the end.
That's one place below Kevin Adderley - Oh the shame of it !!!
---
Yorkshire Phoenix Super League
| | | | | | | | | | |
| --- | --- | --- | --- | --- | --- | --- | --- | --- | --- |
| | Name | Pl | W | D | L | F | A | Diff | Pts |
| 1 | Trevor Cummings | 18 | 17 | 1 | 0 | 66 | 13 | +53 | 35 |
| 2 | Mike Parnaby | 18 | 13 | 3 | 2 | 49 | 29 | +20 | 29 |
| 3 | Martin Hodds | 18 | 12 | 2 | 4 | 55 | 16 | +39 | 26 |
| 4 | Paul Lawrenson | 18 | 10 | 1 | 7 | 29 | 21 | +8 | 21 |
| 5 | Richard Pepper | 18 | 9 | 1 | 8 | 33 | 33 | +0 | 19 |
| 6 | Matt Lishman | 18 | 6 | 4 | 8 | 29 | 29 | +0 | 16 |
| 7 | Keith Tiplady | 18 | 7 | 2 | 9 | 30 | 39 | -9 | 16 |
| 8 | Ben Staples | 18 | 4 | 2 | 12 | 30 | 54 | -24 | 10 |
| 9 | Erza Aripin | 18 | 2 | 2 | 14 | 11 | 50 | -39 | 6 |
| 10 | Adrian Curtis | 18 | 0 | 2 | 16 | 9 | 57 | -48 | 2 |
---
Yorkshire Phoenix First Division
| | | | | | | | | | |
| --- | --- | --- | --- | --- | --- | --- | --- | --- | --- |
| | Name | Pl | W | D | L | F | A | Diff | Pts |
| 1 | Neil Lishman | 12 | 10 | 2 | 0 | 33 | 5 | +28 | 22 |
| 2 | Rob O'hare | 12 | 10 | 1 | 1 | 33 | 7 | +26 | 21 |
| 3 | Kevin Adderley | 12 | 6 | 3 | 3 | 24 | 17 | +7 | 15 |
| 4 | Neil Munns | 12 | 5 | 3 | 4 | 18 | 17 | +1 | 13 |
| 5 | Eddie Betteridge | 12 | 3 | 2 | 7 | 13 | 26 | -13 | 8 |
| 6 | Louise Lawrenson | 12 | 1 | 2 | 9 | 6 | 25 | -19 | 4 |
| 7 | Sam Curtis | 12 | 0 | 1 | 11 | 2 | 32 | -31 | 1 |
---
© Neil Munns 2001