---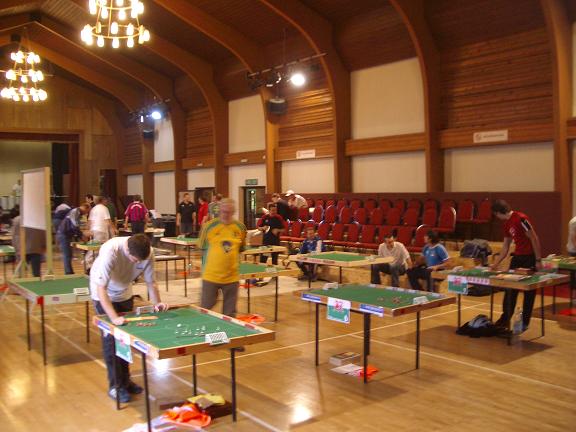 Back at Knighton once again - it's my second visit.
---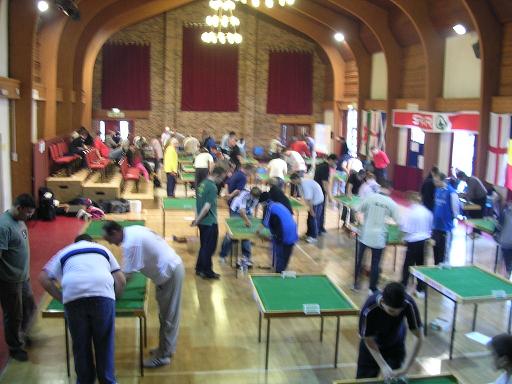 Lots more tables this year.
They even had a web cam on one of them !
---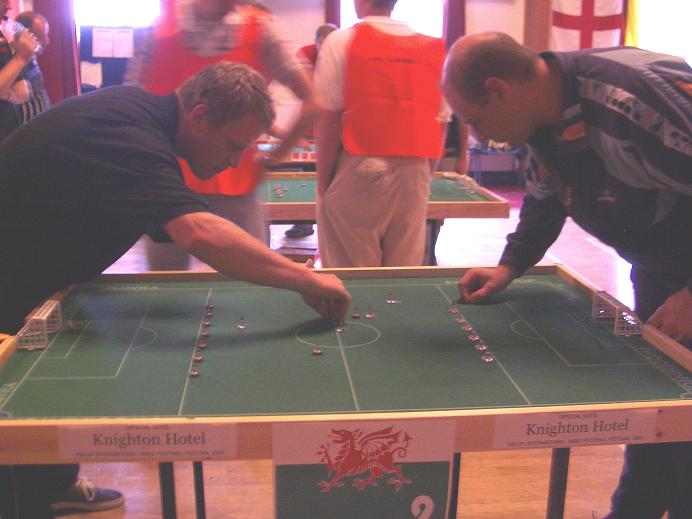 Kicking off my first game of the team events.
I had just been promoted up from the 'C' team to the 'B' team, they being one short.
'B' team now were ; Rob O'Hare, Neil Lishman, Matt Lishman, Neil Munns.
I played Joseph Lourden of E.M.A.
---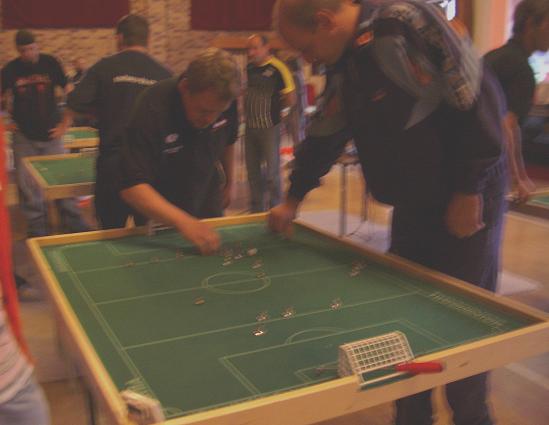 I didn't play too well but somehow managed a win ! Cool !
Neil Munns 2-1 Joseph Lourden
---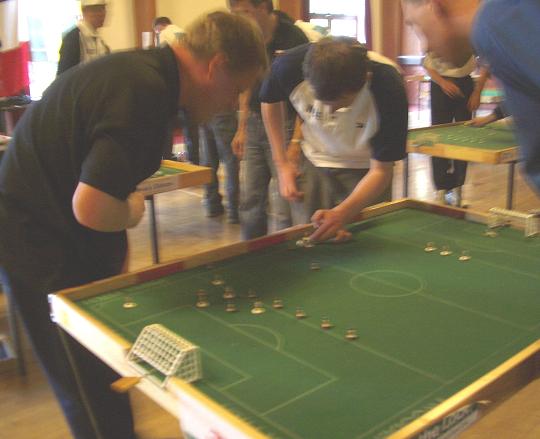 Next it was Algy Taylor for Hot Club D'Ecosse.
Bouyed on by my previous win I played a blinder.
The second half was like being in the trenches at the somme, but I hung on !!
Neil Munns 2-1 Algy Taylor
In the end the whole team played there socks off
we ended up topping the group.ACE !!!
---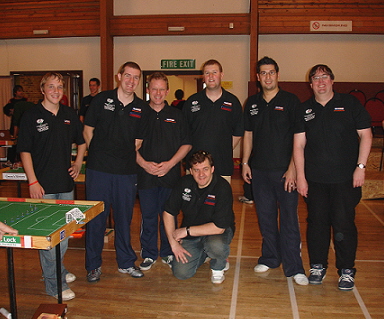 The 'A' and 'B' teams group pic (missing Neil Lishman)
Ironically, we then faced them in the quarter finals
and,we had our own 'C' team refereeing !!
An all Phoenix affair.
---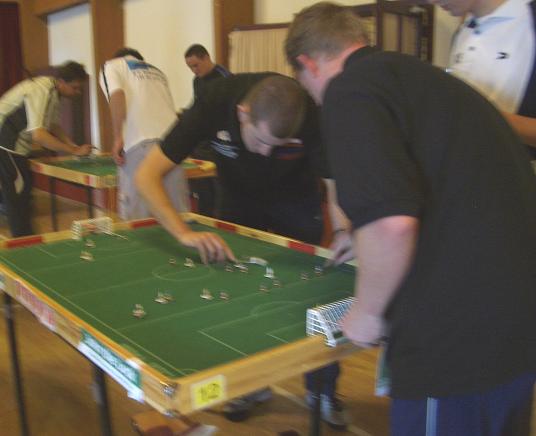 I was to face our own captain (and England player) Paul Lawrenson.
Oh well, it was fun while it lasted.
Click on these links to see the other three match pics.
Neil v Adrian
Matt v Richard
Rob v Martin
---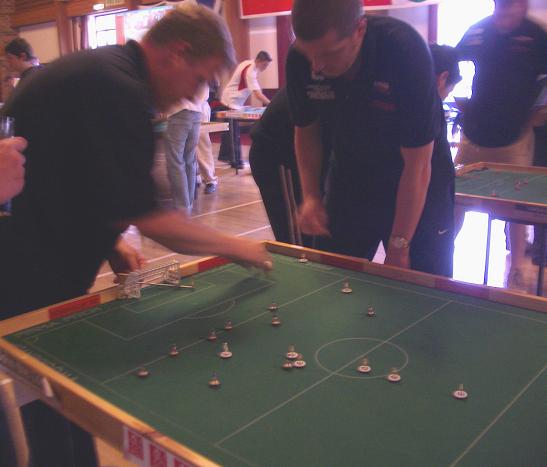 Well, the next bit was a bit of a blur really.
Neil Munns 2-0 Paul Lawrenson (what !!!)
Rob O'Hare beat Martin Hodds
Matt Lishman drew with Richard Pepper
Neil Lishman lost to Adrian Curtis
Yep - With two wins and a draw
the 'A' team were out and we were in the semi's ! Hoorah.
---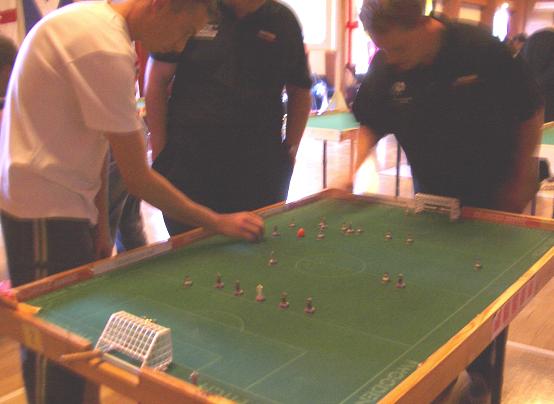 The semi finals - wow.
We were to face the English Premier League 'A' team.Gulp!
As you can imagine we were slightly rolled over losing all our matches.
I lost here to Chris Thomas 7-0
Click on the links below to see the other three matches.
Matt Lishman
Neil Lishman
Rob O'Hare
All in all a superb day I reckon - Well done the 'B' team
and thanks for picking me !
---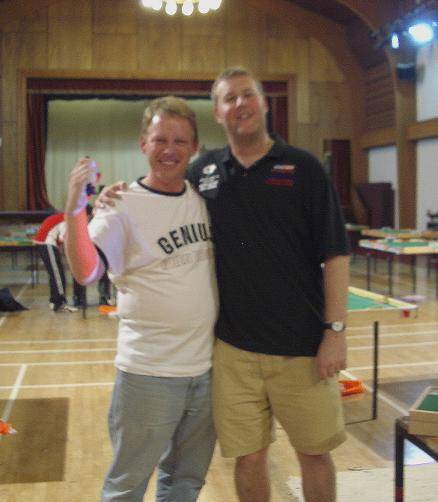 Of course there was still a matter of the cricket tournament
and the Munns-Hodds cricket team defending their number 2 seeding.
---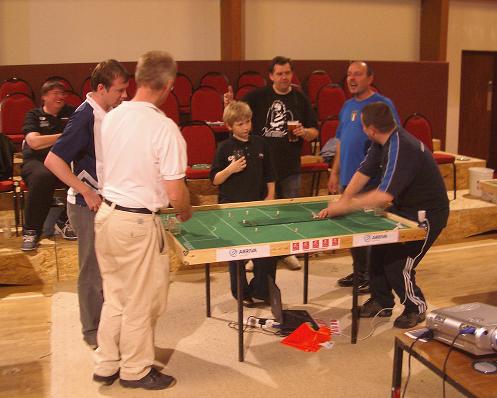 We needed to take the top prize to get number 1 seeding.
We lost to Adrian and Sam Curtis - Oh well, next year !
---
I was to face some tough opponents in the individual open the next day.
( Sorry but I don't have any pics yet. )
Neil Munns 0-0 Eion Adams
Neil Munns 0-4 Laurent Goor
I was through due to Laurent beating Eion 8-0 - yippee.
Neil Munns 1-5 Kasper Bennett
---
© Neil Munns 2001