---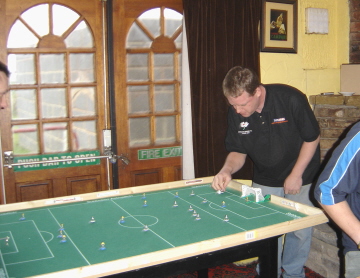 Well,this was my first ever competition, gulp.
I didn't actually own any players at this point,but what the hell !
(Thanks Tippy for lending me some C8's)
So how did I get on ?
Neil Munns 0 - 2 Mark Reid
Neil Munns 0 - 7 Adrian Curtis
Oh well, that was me out.Maybe next year.
I'd best buy some bloody players first really, it's got to help !!
Those who got knocked out went into a plate competition.
Neil Munns 0 - 4 Malc Dickson
Room for improvement then !
Never mind. It's ace fun though.I'd do better if I prepare for the next one really.
Click here for full 2004 Yorkshire Open results
---
© Neil Munns 2001