Hi, I'm Neil Munns and
this is a collection
of pics logging all my
feeble subbuteo efforts.
I got back into this in
November 2004 and try
(badly) to play for the
Yorkshire Phoenix TFC.
They're based around
West Yorkshire and
are an ace team so
go and check them out!
You'll easily find me.
I'm the one struggling
around the bottom of the
tables ! Still it's probably
payback for Pompey
not exactly being helpfull
to Huddersfield or Leeds
on our way to the big
premiership! I wish my
playing was as good.
munzi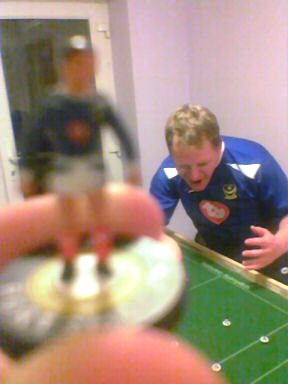 1990---------------------------
Jul - Mini tournament
2004---------------------------
Dec - Yorkshire Open
2005---------------------------
Jan - London
Feb - Milton Keynes
Mar - Knighton
Apr - 05 League (all)
Sep - League playoffs
Sep - 06 League (day1)
Oct - Knighton
2006---------------------------
Apr - 06 League (end)
May - Yorkshire Open
Sep - 07 League (day1)
2007---------------------------
Mar - 07 League (day2)
Apr - 07 League (end)
Dec - Yorkshire Open
2008---------------------------
Apr - 08 League (all)